Beer Battered Hot Dog Nuggets
Linajjac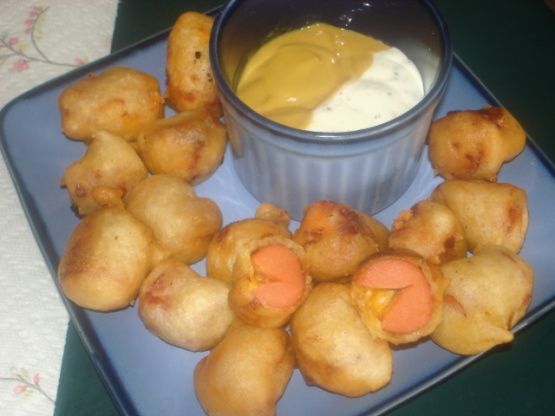 A bite-size twist on a classic.

My boyfriend and I liked this recipe very much but we thought the beer batter should be a bit heavier/thicker so we were wondering if maybe we whipped the egg white's to much? They were pretty high peak's and the recipe states medium peak's. But regardless they were very very good. A little helpful hint; I used a wooden skewer to dip the hot dog's into the batter and then into the deep fat fryer and took them out the same way, it was much easier to coat the hot dog's and also in the removal from the oil. Thank's for the great recipe, we will definitley be doing this again.
In a bowl, mix the flour, egg yolks, salt, oil, and beer.
Whisk until smooth.
Let rest as long as possible – even overnight in the fridge.
When ready to assembly the hot dogs, whisk the egg whites to stiff medium peaks in a bowl.
Carefully fold the egg whites into the beer batter.
Split each hot dog in half but DO NOT cut all the way through.
Spread mustard in the cut and then stuff with cheese.
Do not overstuff, but make sure there is an ample amount of cheese in each hot dog.
Cut each hot dog into four chunks, and roll each piece in flour – then dip in the beer batter.
Deep fry the chunks in oil that has reached 350 degrees.
Cook until golden brown, approximately 3-5 minutes.
Serve with extra mustard, ketchup, and relish.