Beer-Battered Fried Avocado Wedges
GeeWhiz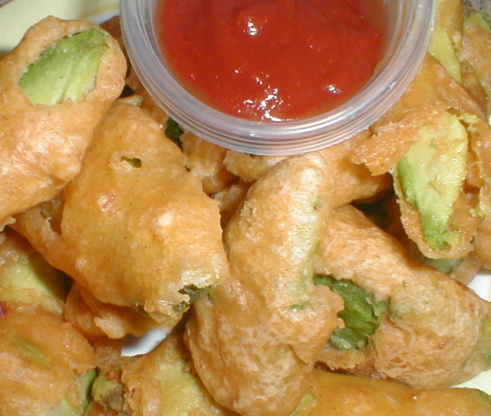 A snazzy way to play with avocados *UPDATE* Some have said it's kinda mild and I agree. I came up with this originally for a cpl. fambly members who like it that way. BUT, I just now (02/24/2012) added the creole seasoning to help perk it up a bit. I hope this helps some of ya'll to enjoy it more and for those that like it mild just kinda ignore the creole addition. Have a good day peeps.

Very good. The key is to let the batter sit
To make beer batter, whisk together beer, Tony's seasoning, flour, paprika, and garlic until well blended.
Let stand at least 2 hours.
Peel avocados; cut each into 6 wedges.
Dredge 6 wedges in reserved beer batter.
Deep fry in hot oil (370 F) until golden about 3 minutes.
Repeat with remaining wedges.
Serve wedges with fav.
salsa.