Beer Battered Fish (For Fish N'chips)
Ackman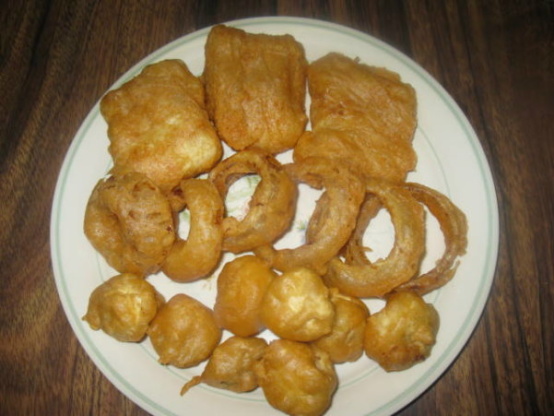 I LOVE fried fish.. always have. When dining out, nine times out of ten, I will order fish n'chips. It's getting to be very hard to find a restaurant that serves good fish n'chips anymore..So I just had to learn to make them myself.

Top Review by Ackman
This is SOOOOOO good!!! I wish there was more than 5 stars!!!!! I've made this batter several times. I added 1/4 c. cornstarch to the dredge flour...(have NO idea where I got the from, but it does work!) & I doubled the salt in the batter. One bottle of beer is perfect!!!
Tonite, I deep fried a pound of cod, made onion rings & battered mushrooms, too....gonna try some deep fried WI cheese curds, next time!!!!!
THANKS!!!!!!!!!!!!!!!!!!!
Sift together flour, salt, and paprika.
Stir in enough beer to make batter so it is barely thick enough to coat a spoon. Usually somewhere between one and two cans.
(It may look too thin, but you want it that way, if it's too thick, the batter will be chewy instead of light and crunchy) Set batter aside while you heat your deep-fryer or deep pan of oil to 375 degrees. Use a candy thermometer if you need to.
Peanut oil is best but any vegetable oil will do.
Cut the cod fillets diagonally into 2 inch wide strips, and remove any pin bones from fish.
Lightly coat fish in flour and shake off excess. This will allow batter to stick to fish.
When oil is heated, dip fish in batter, let excess drip off, then fry fillets 2 or 3 at a time until golden brown.
Drain on paper towels.
Serve with fries and tartar sauce.