Prep 10 mins
Cook 20 mins

This is from Simple & Delicious. Very kid friendly and tasty.
Directions
In a large skillet, cook beef over medium heat until no longer pink; drain.
Set aside cheese sauce packet from dinner mix.
Add shells and water to skillet.
Bring to a boil; cover and simmer for 10-12 minute or until pasta is tender.
Stir in the salsa, beans, chili powder, salt and contents of cheese sauce packet.
Remove from the heat; cover and let stand for 5 minute.
Most Helpful
Very good and very easy! I used the 1 tsp of chili powder and added 1 tsp of cumin, too. I added chopped onion to the beef. I found that after the salsa and beans were added, it wasn't as cheesey as I would have liked it. I then threw in a handful of shredded cheddar cheese and a splash or so of milk, and that helped it a lot. Thanx for a great kid-pleaser!

I'm not crazy about Shells n Cheese so that didn't sit well with me. My daughter doesn't like anything she "thinks is hot" added to her food. She THOUGHT the salsa was hot <br/>but it wasn't!! ? My hubby loved it; absolutely loved it!! I wish I'd added "hot salsa" or "Rotel" to it for him. I used shell macaroni & Velveeta Cheese vs the boxed dinner. In order to make it creamy enough, I drained juice off the Salsa & some tomatoes while melting cheese. A can of Cheddar Cheese Soup would've worked perfect but I was out. As easy as this was to make & please Hubby, I'll take some plain shells n cheese out for my daughter & add the heat to hubby's next time! ?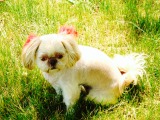 I really like this. I used fresh made pico de gallo for half of the salsa and Cookwell & Company Escabeche Style salsa for the other half.