Beefy Macaroni and Cheese With Tomatoes
PaulaG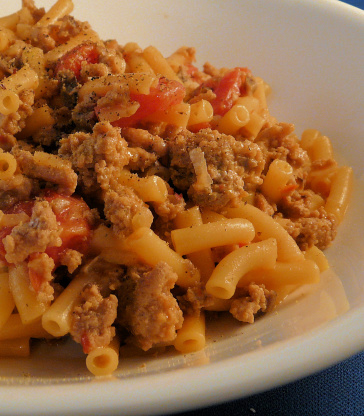 This is a great time saver and who doesn't like mac and cheese with a little surprise?

Great easy recipe when the pantry is getting bare. I wanted to add veggies, but was vetoed by my husband, who was cooking this. He decided to add a bunch of cayenne, so now he's the only one eating it, but before he did that it was really good! I'll do the cooking next time we make this one. Thanks for sharing a quick recipe idea!
Prepare your mac and cheese per instructions on the box. Set aside.
Fry your ground beef the with onion added and add whatever spice you like.
Garlic, Salt and Pepper are my favorites.
After you drain your hamburger you can add the mac and cheese to it.
Add your can of diced tomatoes, mix well and heat thru.
If you want you can throw some veggies in the mix as well.
Enjoy!