Beefy Chicken Loaf (oamc)
Pamela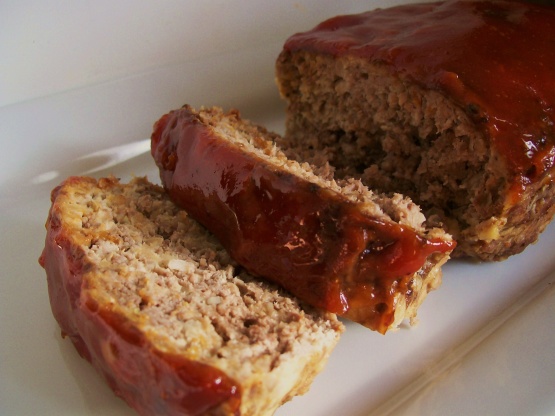 Adapted from Company's Coming Make Ahead meals by J. Pare.

I was really skeptical at first, but this was delicious! It was tender, but not too greasy (I did pour off a fair amount of the 'juice' that accumulated during cooking, but it was fine after that) Everyone in my family loved it. We used the leftovers on top of baked potatoes for lunch the next day. A MAJOR hit!!
Combine loaf ingredients together in a large bowl and mix well to ensure even blending.
Pack into a loaf pan, or muffin tin for mini loaves.
Mix sauce ingredients together and spread evenly over loaf.
Bake uncovered for 60 minutes at 350 degrees.
To freeze: wrap unbaked loaf well, label and freze.
To serve: defrost overnight and then bake as directed. Add 30-45 minutes baking time if baking from frozen.