Beefed-Up Roast Beef Sandwiches
lazyme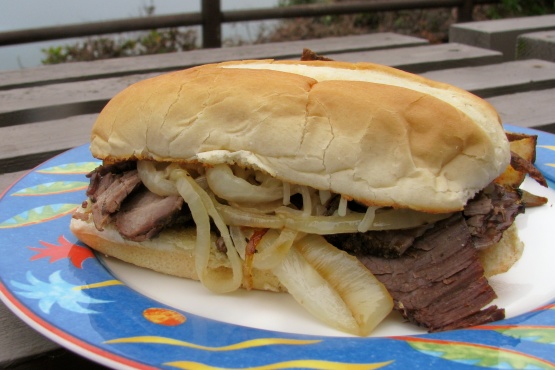 I was getting bored of 'regular' roast beef sandwiches. I took things from a bunch of recipes and mixed it up a little. Easy to double-up this or size-down.I also use a pkg of Au Jus from Clubhouse for dipping.

Oh so good! I used deli roast beef, but next time I make a roast I will use the left-overs and bet it will be even better! Hubby added jarred, hot peppers to his and he ate 2. I sauteed a green bell pepper with the onion. It was great. I think next time I may use Swiss cheese (my favorite). I toasted the buns on the grill (I was making corn on the cob). I did wrap these in foil and put them on the grill (indirect heat) until the cheese melted. Thank you for posting. (Made for "Name That Ingredient" tag)
Melt 1 tbsp butter in frying pan.
Separate onion slices into rings and fry till tender and caramelized, set aside to cool slightly.
Toast buns till desired crispness, butter when done.
Layer on roast beef, onions and top with a mixture of each cheese.
*At this point they can be wrapped in tinfoil and placed in a 350 degree oven for about 5 minutes to let the cheese melt.
Enjoy! And it's really good with Au Jus!