Beefed-Up Bloody Mary Soup
Diana 2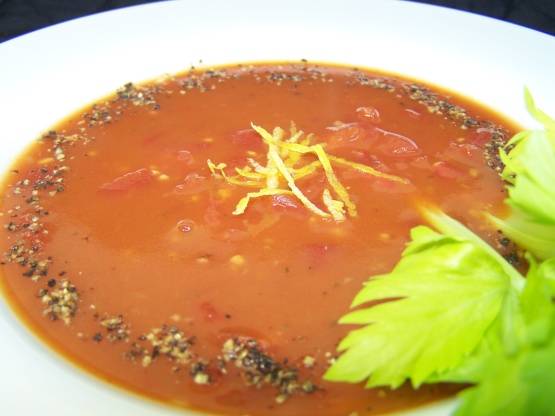 The classic brunch cocktail warmed up, and beefed up with some broth and diced tomatoes into a hearty soup that's amazing with some scrambled eggs and toast. I suggest using your favorite Mary garnishes, like celery sticks, olives, and pickled okra as part of a little platter on the side. A shot of vodka in the soup is optional, but not bad. It's rich, satisfying, unique, and no one has to know it's this easy.

As every other reviewer, had everything on hand, and this packs a wallop of a taste sensation on the taste-buds. (In a great way too!) I found this to additive, and so easy to put together too. I confess to adding extra horseradish, as well as hot sauce, but I like things very spicy! The fresh cracked pepper on top was just perfect, and this is right on my list of wonderful soups for all seasons! Thanks for sharing such an innovative taste sensation!
In a 2 qt saucepan, combine soup, broth, horseradish. Bring to barely a simmer, and allow to cook for 10-15 minutes to mellow the horseradish.
Add Worcestershire, hot sauce and tomatoes and heat through.
Squeeze lemon juice into soup to taste. I use the whole lemon, but start with half if you're not as big a lemon freak.
Serve, garnishing each bowl with some fresh cracked pepper and a sprinkle of celery salt.