Redsie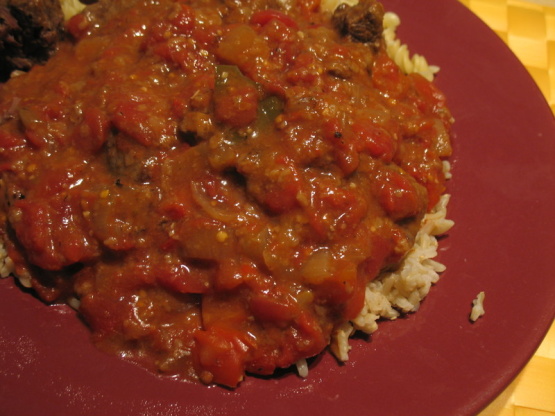 Use any cut of tender beef that you desire, this tastes even better the next day --- add in some mushrooms too, serve with cooked noodles.
Combine the flour with the seasoned salt and pepper in a bowl.
Light coat the beef cubes with the flour mixture.
Heat oil in a heavy pot over medium-high heat until hot.
Brown the beef on all sides; remove to a bowl.
Add in onion, celery, thyme and oregano; cook stirring and scraping down the browned bits.
Add in the garlic and dried red pepper flakes (if using) saute for 1 minute.
Add in tomatoes, bay leaves, consomme, Worcestershire sauce and wine.
Return the beef back to the pot.
Season with pepper.
Cover and simmer on top of the stove until the beef is very tender (about 2 hours).
Serve with cooked noodles and sprinkle with grated Parmesan cheese if desired.