Beef With Rice Noodles (Kway Teow)
Shasha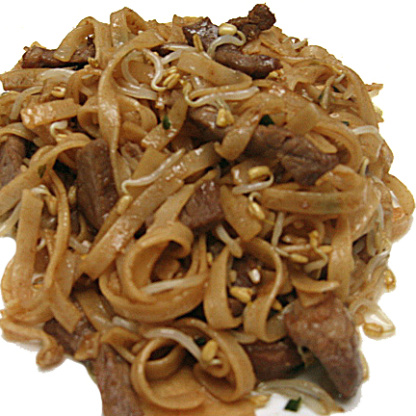 This is a dish which is extremely popular in Singapore. It is a real comfort food to me.

I can see how this makes a great comfort food. Love those noodles. I, too, wanted twice the sauce. I can't get the Chinese chives w/out a lot of hassle so I used scallions. The beef was terrific, well spiced and tender. Very, very good dish. I am confused about the amount of noodles though. Converted, the recipe calls for 21 ounces-that's a lot of noodles for 3 servings. I got by with 8 ounces and there's enough left for two more servings. I'm guessing the 21 ounces applies to fresh noodles and COOKED dry rice noodles.
Slice beef THINLY against the grain.
Mix the beef with all the seasoning ingredients except the sesame oil and canola oil.
Leave the beef to marinate for 20 minutes; then add the sesame and canola oil.
Heat 1 1/2 tablespoons of oil in a wok, stir fry the chives and bean sprouts till they are SLIGHTLY limp. Set them aside.
Heat 1 tablespoon of oil in a wok; till hot and NOT smoking, sauté the garlic till crispy and golden (NOT BURNT).
Add rice noodles and stir fry for about 4 minutes till lightly browned.
Set the noodles aside.
Heat remaining oil in wok, add beef, remaining marinade and ginger slices.
Stir fry beef till colour changes.
Add rice noodles and bean sprouts, stir fry till everything is well coated.
Serve hot.