Beef With Black Bean Sauce
Peter J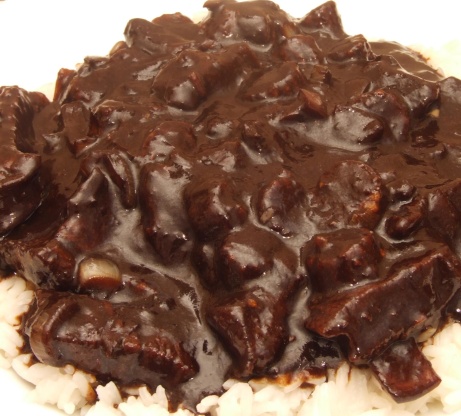 Every time I get Chinese takeaway the black bean sauce is thick, tasty and plentiful, but every time I see a recipe for a black bean dish it has a thin sauce. This is my attempt at fixing it, the way I've done a few things is fairly unconventional, but makes it super easy to put together once the sauce has been made and you don't need to worry about the meat overcooking while the sauce thickens. I was originally going to use a can of mixed Asian stir-fry veggies in the sauce but the store didn't have any so I've listed what I used but go ahead and use whatever sounds good. If using fresh you can also saute at the same time as the onion and garlic. Note the recipe gives quite a strong and salty sauce that is great soaked up with with plenty of rice, if you like a fairly mild black bean sauce reduce the black bean paste for the sauce to 1/4 cup.

*Made for Australia/NZ Swap #75" This looks simple enough, but was quite the adventure for me ! First off -- thought I would NEVER find black bean Paste ! Finally found in a green envelope in the Spanish section of Safeway -- only one there. Peter, you described it as strongly salty, but this was very bland -- almost tasteless, and the consistency was not appetising, but I solderied on, prepared the rest almost as listed --- no corn, but some bean shoots and canned oriental mushrooms. Had Angus beef cubes, which were much tougher than anticipated, but after adding salt, the combination was quite tasty. Didn't keep the beef, but will add leftover sauce to frozen meatballs for tonight. I think I used the entire bottle of beer, to loosen the sauce, so do have leftover. Thanks for posting -- I am keeping the dauce recipe, and a look-out for another brand of paste !!
1 1⁄2 lbs rump steak, cut into cubes (approx 750g)

1

tablespoon peanut oil (any oil will be OK)

For the marinade

1

tablespoon black bean paste

1

tablespoon dry sherry

1

garlic clove, crushed

For the sauce

1

teaspoon peanut oil (any oil will be OK)

1

small onion, diced

1

garlic clove, crushed
1⁄2 cup black bean paste (see note above)
1⁄2 cup beer
1⁄2 cup water
1⁄4 cup diced capsicum (drained from a can)
1⁄2 cup baby corn, sliced (drained from a can)

1

tablespoon cornflour (cornstarch)
Mix marinade ingredients in a bowl, stir through steak cubes to coat well and marinate for 30-60 minutes.
For the sauce heat oil in a large saucepan and lightly saute the onion and garlic until soft.
Remove from heat, add all other sauce ingredients and mix well. At this stage if you like you can place the sauce in the refrigerator for later.
Heat oil in a wok or frypan and cook beef until done to your liking, it won't be cooked much further so make sure it is done but being cubed it doesn't take long to cook.
Return sauce to medium heat and stir until sauce starts to thicken. Allow it to bubble but not boil hard, this step will take about 5 minutes.
Place cooked beef in the saucepan and warm through and mix for a few minutes.
Serve over cooked plain rice with generous lashings of the sauce.