Beef Vindaloo ( the Real Thing)
Rita1652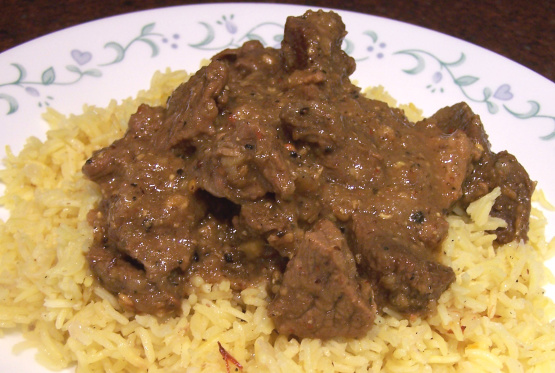 Hot, Hot, and aromatic. This recipe uses white wine vinegar and some sugar, and is unusual in that. This is a low fat version and therefore healthier than some recipes. You will need a grinder/blender or mortar and pestle to make this dish. Its a cracker. Ps. a glass of lager goes well with this.

I made this last night and it was absolutely fabulous! It was quick to prepare and then I just left it cook for about 1 and a half hours, the meat was so tender and deliciously spicy! This is a such a tasty way to use a cheap cut of beef, and I had all the other ingredients already on hand. I cooked it in a Le Creuset French Oven on the stove top, it was perfect. I might even make double qty of the paste next time and freeze half. Thank you for a great recipe!
Grind together the cumin seeds, chillies, pepper corns, mustard seeds, fenugreek seeds, and cardamom seeds.
Add the salt, vinegar and sugar, to make a paste.
In a large pan heat half of the oil and fry the onions till golden, remove from the pan and drain. Add the cooked onions to the spice mix and blend again to make a thick paste.
Heat the remaining oil and fry the meat till just brown.Remove the meat with a slotted spoon and put aside.
To the pan add the ginger and garlic cook 2 minutes.
Add the ground coriander and turmeric, fry for 2 minutes.
Add the onions and spice paste and cook over low heat for 5 minutes.
Add the water and meat cover the pot and cook till the meat is tender.