Annacia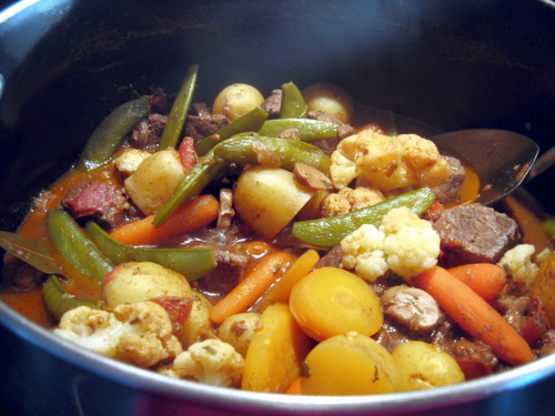 I was looking for a good way to use up some tough steak I had accidentally bought. I used the standard spices used in most Moroccan dishes & added some vegetables. Simmering the meat for a long time got rid of the toughness. I served this mixture over rice & everyone loved it.

This takes everyday items and makes them into a great dinner. I had top sirloin and it turned out very tender and tasty. I used 2 chopped whole tomatoes in place of the paste. My veggies were tiny potatoes, sugar peas, cauliflower and carrots. Even DH ate and enjoyed it! I server it with whole wheat couscous. Truly top marks.
Heat the olive oil in a large pan then add the beef & onions. Cook the beef until all the sides are brown.
Add enough water to the pan to cover the beef. Stir in all the other ingredients except for the vegetables. Bring to a boil, then reduce heat to medium, cover & simmer for 60 minutes (adding more water if needed).
Once the beef is tender add the vegetables to the sauce. Cover with the lid & simmer for another 10-15 minutes. The mixture is done once the vegetables are soft.
Serve over rice or couscous.
Note: I used zucchini, cauliflower, carrots, green peppers, & parsnip as my vegetables.