Parsley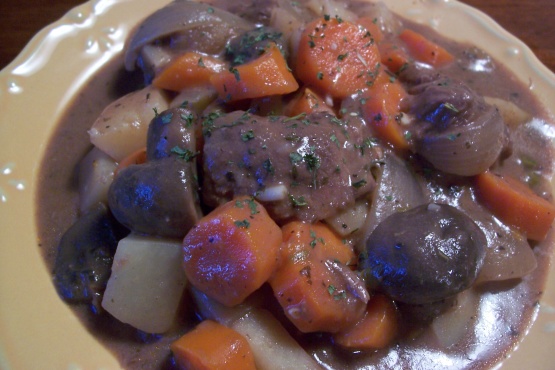 Works for the crock pot (if you have a large crock pot) or the stove top.

Top Review by ellie_
Absolutely wonderful stew and so easy-to-make too! The minor changes I made was using red wine instead of the sherry wine, skipping the mushrooms (forgot to buy them) and skipping the adobo seasoning (couldn't find it in the store).My dh and my son kept on going back for seconds and thirds for this delicious stew which we will be having often! Thanks for sharing!
Place beef and vegetables (including celery leaves) in large crock pot or large soup pot.
In a mixing bowl, combine water, beef bouillon, wine, tomato sauce, Worcestershire sauce, and cornstarch; stir well. Add in brown sugar, spices and garlic; mix well.
Pour this mixture over beef and veggies.
Cook on low in crock pot for 6-8 hours OR cook in soup pot on top of stove, covered, on low-med heat for about 3-4 hours, stirring occasionally.
When done cooking, remove from heat, stir in the sour cream and serve.