Beef Vegetable Soup - Simple, Hearty, and Yummy
There's a chill in the air, the kids' cheeks are rosy, and the leaves have begun falling ... That spells SOUP! There's nothing better on those cold weather days than cozying up to a steaming bowl of home-made soup. If you love the taste, but don't think you have the time -- Think again. This flavorful 'cold weather chaser' can be on your family's table in less than an hour! Team it up with warm sourdough rolls and a fresh garden salad, and you have a satisfying meal any day of the week. Cook's Tips: (1) Make the soup a day ahead of serving. The flavors will 'marry' and the soup will taste even better. (2) Double the recipe and freeze it in individual servings.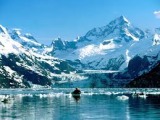 Yummy! Great flavor, hearty and a super way to get extra veggies into your daily meal plan. I opted to use the V8 juice and the flavor was fantastic in the soup. I used a 16 oz. bag of mixed veggies: green beans, corn, carrots and peas. I did not use the zucchini nor lima beans. I also chose to use whole wheat spaghetti noodles, keeping it healthy. Delicous soup and really pretty darn easy. ~Made for PAC Fall 2008~
In a heavy dutch oven, brown ground beef; drain. (Do not overcook).
Add next 12 ingredients; give a good stir.
Bring soup mixture to a boil.
Reduce heat; simmer 30 minutes (Give a good stir every now and then).
Prepare broken spaghetti per package directions; drain.
Add spaghetti to soup mixture; heat through (4 or 5 minutes).
Pour into warmed soup bowls and top with Parmesan and parsley.
Serve with warm rolls & butter and a green salad -- "Ummm Ummm good".
Refrigerate or freeze leftovers.