TeresaD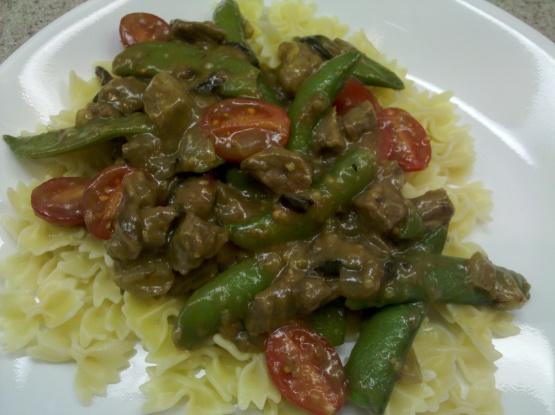 This is a 30 minute version of the traditional twelve hour recipe. Source: Better Homes & Gardens The Big Book of 30 minute Dinners.
In a large nonstick skillet cook stir meat in hot oil for 2-3 minutes or until meat is of desired doneness. Remove meat from skillet, reserve drippings. Keep meat warm.
In the same skillet cook mushrooms, onion, and garlic until tender.
Stir in flour, salt, and pepper. Add beef broth and wine or sherry. Cook and stir until thickened and bubbly.
Stir in sugar snap peas; cook and stir for 2-3 minutes more or until peas are tender.
Stir in meat and tomatoes; heat through. If desired, serve over noodles or pasta.
Total time 30 start to finish.
Can be made ahead, just reheat while pasta is cooking and add snap peas right before serving.
Can be served alone or paired with a crusty bread and salad.