Leslie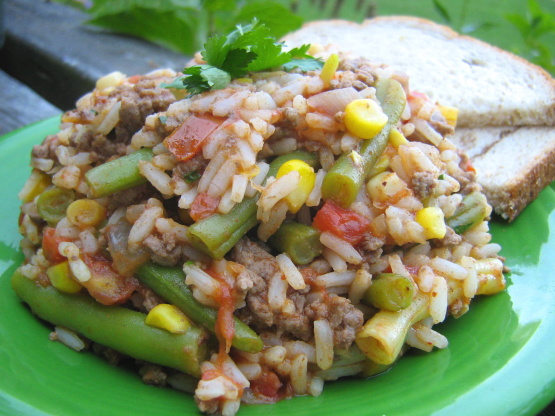 My mom's recipe when she was a Girl Scout leader and needed something tasty and quick for dinner on camping trips. Quick and easy. You can use instant rice, canned beans, canned corn.

Top Review by Leslie
Delicious! This is a quick and easy weeknight meal that can be whipped up in no time. I did only a couple of things differently. First, I used fresh green and yellow beans that I had par-boiled, and also used fresh corn cut off the cob. I also added some fresh cilantro and cumin to the mix to suit adult tastes. I loved it, as did my goulash dis-liking husband! Great recipe to use up those left-overs in your fridge when you are in a hurry to eat after work. Thanks Obag and your Momma! Made for Aussie Swap :)
Thaw beans and corn.
Brown ground beef with chopped onion in casserole dish.
Add chili powder and season with salt and pepper.
Add tomatoes, cooked rice, beans, and corn.
Simmer until vegetables are tender.
Salt and pepper to desired taste.