vrvrvr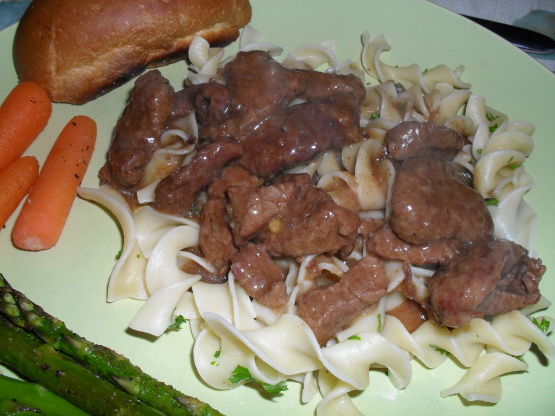 A versatile recipe to which I add onion and garlic. Suggest a tbsp of ketchup or a dash of V-8 juice. From the Budgeteers Cookbook.
I love this and use it alll of the time
Sprinkle beef tips with salt and pepper. Coat with flour. Brown in heavy skillet over high heat in small amount of oil.
Reduce heat and add bouillon. Add Worcestershire sauce. Cover and simmer until beef tips are tender, about 1 hour. If necessary, add add water or broth to maintain 2 C of broth at the end of cooking period.
Stir 2 Tbsp flour into small amount of water and add to broth. Cook until thickened.
Cook noodles according to package directions; drain. Serve hot noodles covered with beef and gravy.