vrvrvr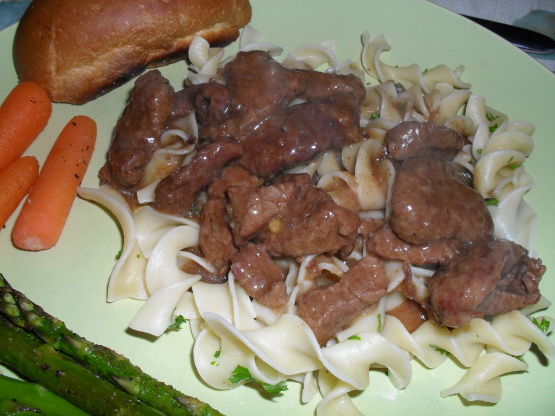 A versatile recipe to which I add onion and garlic. Suggest a tbsp of ketchup or a dash of V-8 juice. From the Budgeteers Cookbook.

Top Review by vrvrvr
Excellent dish! I used a little less than 2 lbs. of boneless sirloin, cut into very thin little pieces. This was enough to serve 5 easily. I used about 1/3 c. flour in a Ziploc bag and shook the beef until every piece was coated. I increased the salt, and I think it could have used a little more. I also added paprika and Emeril's Essence to the flour mixture. For the beef bouillon I used one 14 oz. can of beef broth and did not add additional liquid, except for the Worcestershire sauce as directed. After simmering on the stove for an hour, the beef was so tender it melted in our mouths. Tasted fabulous! And I didn't need to do the thickening trick with flour; the sauce was the perfect consistency. Really delicious and straight-forward approach to beef tips! I wanted to make beef stroganoff tonight but did not have sour cream, and honestly this was every bit as good as a rich & fattening stroganoff! Thanks for the recipe!
Sprinkle beef tips with salt and pepper. Coat with flour. Brown in heavy skillet over high heat in small amount of oil.
Reduce heat and add bouillon. Add Worcestershire sauce. Cover and simmer until beef tips are tender, about 1 hour. If necessary, add add water or broth to maintain 2 C of broth at the end of cooking period.
Stir 2 Tbsp flour into small amount of water and add to broth. Cook until thickened.
Cook noodles according to package directions; drain. Serve hot noodles covered with beef and gravy.