Kim D.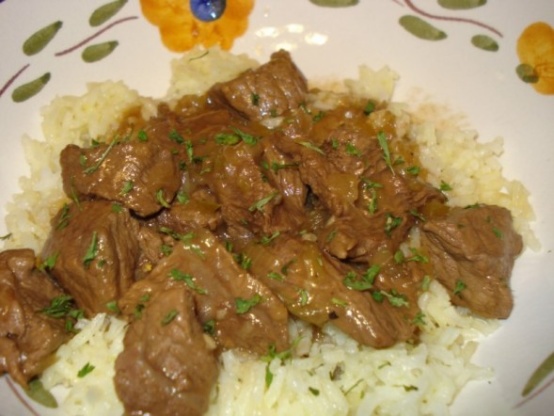 This recipe produces tender beef tips and a delicious gravy. If you prefer, you can serve the beef tips over mashed potatoes instead of rice.

We loved this. I didn't coat the steak with flour, I just threw it in the pan. I cooked it with the onions, peppers and garlic and then drained the broth. I then followed the rest of the recipe as written. I made rice and egg noodles as hubby doesn't like rice. I loved it with rice and everyone else liked it with egg noodles. I only cooked mine for thirty minutes and it was so tender. Will be making again.
In a large Dutch oven, heat 2 tablespoons olive oil over medium heat.
Add onion, bell pepper and garlic.
Cook for about 5 minutes or until veggies are tender.
Remove veggies from pan and place on a dinner plate.
In a bowl, toss together beef tips and 1/3 cup flour.
Add remaining 3 tablespoons of oil to the Dutch oven.
Place beef tips in Dutch oven and brown on all sides and cook for about 10 minutes, stirring regularly.
Add veggies back to the Dutch oven.
Add 4 cups water, soy sauce, Worcestershire sauce, seasoned salt and pepper, stirring well.
Bring to a boil.
Reduce heat and cover partially.
Let simmer for 1 hour.
In a small bowl, combine 1/3 cup cold water and 3 tablespoons flour, mix well.
Add flour mixture to the beef tips, cooking for 2-3 minutes or until mixture thickens.
Serve over hot cooked rice.
Garnish with parsley.