Beef Tips and Caramelized Onion Casserole
Beef tips and caramelized onions are baked and topped with cheese toast. This recipe is a cross between French Onion Soup and beef stew, only better. Recipe is from Paula Deen's magazine.
Directions
In large Dutch oven, heat olive oil over medium-high heat.
Sprinkle roast with salt and pepper.
Brown roast, in batches, for 3-4 minutes per side; remove from pan and set aside.
In the same Dutch oven, melt butter over medium heat.
Add onions, and cook, stirring frequently, for 15-20 minutes, or until onions are tender.
Increase heat to medium-high, and cook for 3-4 minutes, stirring frequently, or until onions are caramel colored.
Stir in garlic and flour, and cook, stirring constantly, for 2 minutes.
Add roast, consomme, broth, Worcestershire, bay leaves and thyme.
Simmer, stirring occasionally, uncovered, for 1 hour.
Stir in cream, and simmer, uncovered, for 30 minutes.
Discard bay leaves.
Preheat broiler.
Lightly grease a 13x9-inch baking dish.
Spoon roast mixture into prepared baking dish.
Place toasted French bread slices evenly over roast.
Sprinkle with cheese.
Broil, 5 inches from heat, for 3-4 minutes, or until cheese is melted.
Garnish with fresh thyme, if desired.
Serve immediately.
Most Helpful
This was really good!!! My husband told me 2 or 3 times that he liked it. The worcestershire sauce adds a delicious richness in this dish. Be sure to keep a watchful eye on this when it is under the broiler, it could get a little darker then you want. I can't wait to make this again for guest someday. I know they will flip over the flavor. Made for *Gimme 5 Recipe Tag 2009* game

This is a nice change of pace from the typical beef-stew-style meals. It seems to be the perfect blend of ingredients. I was disappointed, though, that the onions really didn't carmelize as I had hoped, so it did not have quite the appearance of French Onion Soup. It was still quite tasty, though! Made for Please Review My Recipe Tag Game.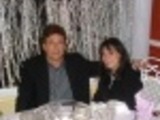 Wow, this was delicious!!! We gobbled it up! My grocery store didn't have any tips already cut so I had to buy the whole roast and cut it myself. I cut the recipe in half as I was cooking for 2. The gravy is to die for! I will definitely make this again and again! Thanks for sharing!