Beef Tip With Mushroom Noodle Casserole
teresas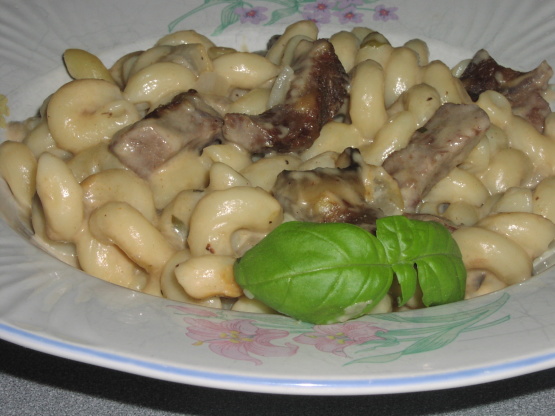 A nice quick easy, recipe the family can enjoy on a weekday night. An adopted recipe I have had that I have tweaked. The original recipe had half the ingredients at one point. After working on this the past week I have come up with this savory recipe. ZWT16 2ND PLACE FINISH.

Made for tonight's dinner and was very happy with the flavors that came from the ingredients. I did leave out the mushrooms as we are not mushroom eaters but did use the mushroom soup as prescribed. DH and I loved this and served with broccoli and smashed fingerling taters for DH instead of the noodles as DH said he did not want any noodles.(before adding then noodles and meat together I took out a portion for home to have separate. I had mine as described with the noodles and LOVED IT! I did cut the hot sauce in half as my tummy is not hot sauce friendly and it was perfect. When you just let the sauce sit on your tongue you got hints of nutmeg with a kick from the hot sauce. Nice combo and one I would not think to do myself... This is easy for weeknight supper or any time. Thank you, RSC 16
Dredge beef tips in flour, shaking off the excess.
Heat oil in a large frying pan, once heated brown the beef tips.
Add diced onion, wine, garlic powder, black pepper, basil, nutmeg and hot sauce to the pot and bring to a boil.
Reduce the heat and add mushrooms, mushroom soup, and beef broth and simmer for 10 minutes.
Prepare noodles according to package directions, cooking the noodles only.
When noodles are fully cooked, drain and add them to the meat mixture.
Stir in pint of sour cream (if too thick gradually add milk for consistancy).
Sprinkle with parsley and heat in oven 350 degrees for 20 minutes.