Beef Tenderloin With Mustard Sauce
twissis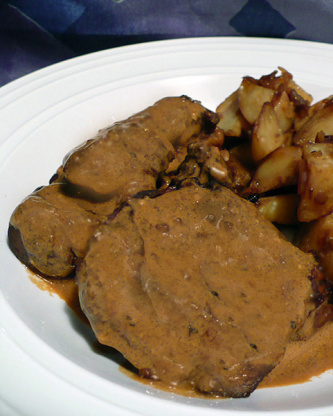 My sister Brooke made this for me while visiting recently! Not being a big fan of red meat, this was absolutely the best steak. She served it with oven fries and a salad. Made for a perfect dinner just us girls.

Yum, yummy, yum! We had beef tenderloin steaks and I knew I wanted a fragrant creamy sauce, but with ease. This was it! So simple, but such outstanding results. Company-worthy, but we celebrated it just being Friday with a good bottle of red, roasted potatoes, green salad and these fabulous steaks drizzled with the perfect sauce. Another great thing about this recipe? The super EASY and clear directions, really helpd this steak cooking newbie. I will go to this recipe whenever decadent, fancy steaks are what we need! Thanks Chef V!
Preheat oven to 350 degrees;.
Coat steaks with pepper on both sides.
Heat a cast-iron skillet over medium heat until very hot. Sear steaks for 5 minutes on each side, then transfer to oven to finish cooking, about 8 minutes for medium rare.
Transfer to a plate to rest while you make the sauce.
In the same skillet that steaks were cooked in, cook shallots in oil over medium heat until translucent, 6 minutes. Add brandy, and cook, stirring constantly, until reduced to 1 tablespoon, 1 minute. Stir in mustard and cream. Bring to a simmer and season to taste with salt and pepper.
Serve sauce alongside the steaks.