Beef Tenderloin With Gorgonzola Sauce
Prep 20 mins
Cook 45 mins

This is my mom's recipe that she's been making for special occasions for as long as I can remember. These directions will produce meat that is medium-rare in the very center of the tenderloin. If you want your meat more well done, add on 10 minutes and check it by cutting a small nick in the center of the meat - keep repeating until the meat is done to your liking.
Directions
Marinate the tenderloin in the apple cider vinegar for 10 minutes. Afterward, pat the meat dry with paper towels. This step can be done up to 24 hours ahead, if desired.
Combine the salt, pepper, garlic powder, onion powder, Worcestershire sauce & mustard.
Spread this spice paste over the tenderloin, coating the whole exterior.
Place on a broiler pan and drizzle half of the melted butter over the tenderloin. Broil for 5 minutes. Turn tenderloin over to other side & drizzle with the remaining butter. Broil for another 5 minutes.
NOTE - BEGIN MAKING SAUCE NOW, SEE INSTRUCTIONS BELOW.
Set the oven to 350 degrees and bake the tenderloin at this temperature for 45 minutes.
Remove from the oven and let sit for 10 minutes before slicing. Serve with Gorgonzola Sauce.
GORGONZOLA SAUCE:.
Bring the cream to a full boil in a medium saucepan over medium-high heat, then continue to simmer rapidly for 35 to 40 minutes, until it's thickened like a white sauce, stirring occasionally.
Remove the pan from the heat & add the gorgonzola, parmesan, horseradish, salt, and pepper. Whisk rapidly until the cheeses melt, add parsley, and serve.
Most Helpful
Both the tenderloin and the sauce were very good and were the hit of the party!
I made this for a dinner party and it went over really well. We personally would reduce the salt and pepper in the rub but it was tasty, so I am going to try to "inject" it next time into the meat using a meat injector. Thanks for posting!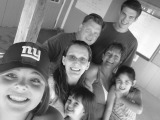 Excellent recipe - the gorgonzola sauce was very mild, not overpowering, yet still had that great zip to it. I didn't want to wait until an occasion worthy of a tenderloin, so I marinated a couple T-bones instead and grilled them. Worked out superbly! Thanks!