Ycooks2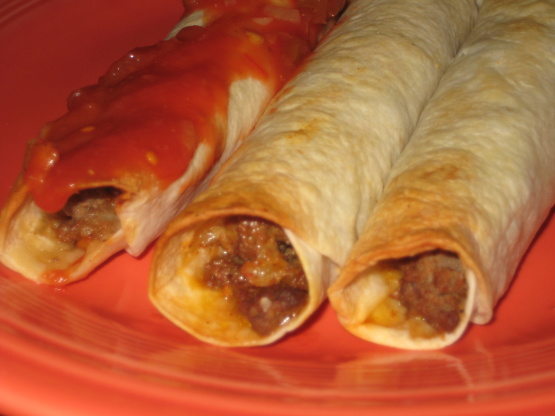 Like tacos, only neater to eat. In Mexico, they're often deep-fried, but baking them works well too. It's easier and healthier, and the tortillas still turn golden brown and crispy around the edges. Serve with salsa and sour cream.
I've made these a few times and they are amazing! Great taste, much better than store bought taquitos! I used 1lb of ground beef, so had to adjust the salsa and spices a bit. I've also tried these with corn and flour tortillas. The corn have a good taste, but completely fell apart when baked. I prefer the flour personally. Thanks for a great recipe!
Heat the oven to 400°. Heat the oil in a large skillet over medium heat. Add the onion and garlic and cook them for 3 minutes, stirring often. Add the beef and use a wooden spoon or a spatula to break it up while it cooks, until it is no longer red, about 3 minutes. Stir in 1/2 cup of the salsa, the chili powder, and the salt and pepper. Cook the mixture over low heat, stirring occasionally, for 10 minutes.
Place the tortillas on a plate and cover them with damp paper towels. Microwave them until warm and pliable, about 45 seconds. Top each tortilla with 2 tablespoons of the beef mixture, spreading it to an inch from the edges. Sprinkle cheese evenly over the beef.
Roll up the tortillas and place them on a foil-lined baking sheet with the seam sides down. Brush the taquitos lightly with vegetable oil, then bake them until the filling is heated through and the tortillas are lightly browned, about 8 to 12 minutes. Serve them hot with sour cream and/or salsa.