Ycooks2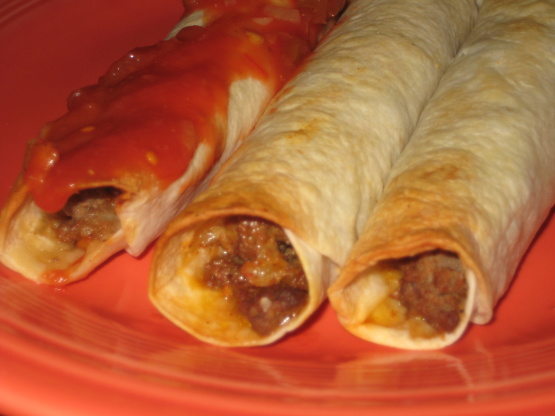 Like tacos, only neater to eat. In Mexico, they're often deep-fried, but baking them works well too. It's easier and healthier, and the tortillas still turn golden brown and crispy around the edges. Serve with salsa and sour cream.
Need to use toothpicks to hold them together. Great recipe. I wrap torts in a kitchen towel with no softner or else you will taste the softner. A good stack like 20 corn torts at a time. Slightly sprinkle water on towel. Microwave for one minute. Soft enuf to roll. Add your ingredients and use a toothpick. To keep them together. Cheese makes it stick together. Preheat meat slightly, and cheese will stick. As you roll any ingredients together. Don't make them too fat to roll. Bake or oil cook them. Carry on...
Heat the oven to 400°. Heat the oil in a large skillet over medium heat. Add the onion and garlic and cook them for 3 minutes, stirring often. Add the beef and use a wooden spoon or a spatula to break it up while it cooks, until it is no longer red, about 3 minutes. Stir in 1/2 cup of the salsa, the chili powder, and the salt and pepper. Cook the mixture over low heat, stirring occasionally, for 10 minutes.
Place the tortillas on a plate and cover them with damp paper towels. Microwave them until warm and pliable, about 45 seconds. Top each tortilla with 2 tablespoons of the beef mixture, spreading it to an inch from the edges. Sprinkle cheese evenly over the beef.
Roll up the tortillas and place them on a foil-lined baking sheet with the seam sides down. Brush the taquitos lightly with vegetable oil, then bake them until the filling is heated through and the tortillas are lightly browned, about 8 to 12 minutes. Serve them hot with sour cream and/or salsa.