If you are lucky enough to have leftovers, wrap tham up in a flour tortilla to serve for lunch the next day.
Directions
Cook beef in 10 inch skillet over medium heat 8 to 10 minutes, stirring occasionally, until brown; drain.
Stir in seasoning mix, water, salsa and corn. Heat to boiling; stir in rice. Boil 1 minute; remove from heat. Cover and let stand 8 minutes.
Fluff rice mixture with fork; sprinkle with cheese. Cover and let stand 1 to 2 minutes or until cheese is melted.
Sprinkle lettuce around edge of skillet; sprinkle tomato in circle next to lettuce. Serve with sour cream.
Most Helpful
I made this last night, it was very easy and GOOD! My boyfriend did not leave leftovers that's for sure. I used long grain rice instead of instant and I think next time I will add 2 taco seasoning packets for more flavor and rotel tomatoes. Simple, fast, and easy. Overall great recipe! :-)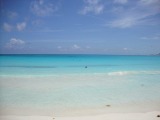 Very good meal. Quick, easy, and relatively inexpensive. I made it a little healthier by using brown rice (which made me have to play around with the cooking time), ground turkey, reduced fat cheese, and fat free sour cream. I will be making this again, especially on the week nights when I just don't have it in me to make dinner.
Delicious! I made this without the lettuce and tomato (didn't have them in the house) and substituted regular for the instant rice (so I increased the water to 3 cups and the cook time to about 20 minutes.) We put it into flour tortillas and then topped the mix with the cheese. There was an enormous amount which will make for nice leftovers! Thanks for the good recipe!