Redsie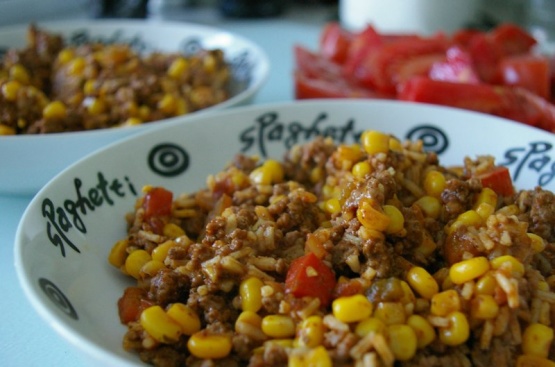 If you are lucky enough to have leftovers, wrap tham up in a flour tortilla to serve for lunch the next day.

I made this last night, it was very easy and GOOD! My boyfriend did not leave leftovers that's for sure. I used long grain rice instead of instant and I think next time I will add 2 taco seasoning packets for more flavor and rotel tomatoes. Simple, fast, and easy. Overall great recipe! :-)
Cook beef in 10 inch skillet over medium heat 8 to 10 minutes, stirring occasionally, until brown; drain.
Stir in seasoning mix, water, salsa and corn. Heat to boiling; stir in rice. Boil 1 minute; remove from heat. Cover and let stand 8 minutes.
Fluff rice mixture with fork; sprinkle with cheese. Cover and let stand 1 to 2 minutes or until cheese is melted.
Sprinkle lettuce around edge of skillet; sprinkle tomato in circle next to lettuce. Serve with sour cream.