Beef Stroganov (Stroganoff)
mersaydees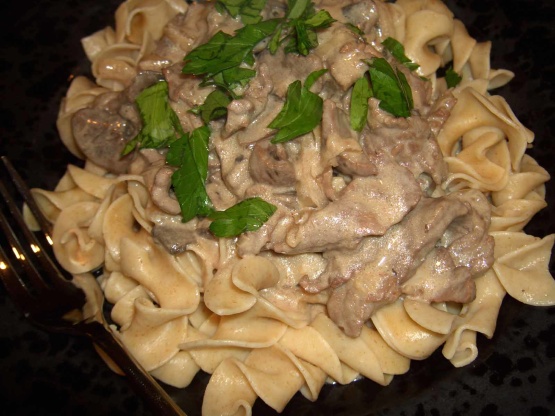 This has been a family favourite for more than 20 years. Lucky it's fast and very easy to make. Serve over mashed potatoes, wide egg noodles or rice so you don't waste any of the sauce. Please use good quality beef. In Australia, I use rump steak. The cooking time isn't long enough for cheap meat to become tender.

I stopped eating meat a few months back, but I remember this recipe was really delicious.<br/>I make a vegetarian version of this now and it turns out SOOOO GOOD!<br/>In the beginning when I saute the mushrooms, onions, and garlic I add in some white wine. <br/>I also add in more 2 more vegetable bullion cubes and some dried basil, garlic powder, paprika and oregano to the sour cream sauce. <br/>For the meat I used Trader J's "beef-less" strips My boyfriend looooves this recipe and requests it at least once a week!<br/>Thanks!
Melt 2-4 tablespoons of butter in a large pan (that has a lid). Then add the onions, mushrooms and garlic, and saute for a few minutes. Then cover pan, lower heat and simmer until tender (another 5-10 minutes).
Remove this mixture from the pan, including all juices, and set aside.
Melt the remaining butter in the same pan. Then add the beef strips, and saute until browned. This takes 5-10 minutes.
Add the water, stock cubes, salt and pepper, and bring to a boil.
Once this boils, cover the pan again, lower heat and simmer 10-15 minutes.
Remove lid and add onion-mushroom mixture.
Bring to a boil, then reduce heat and stir in sour cream and mustard.
Heat until everything is warmed through, but do not boil.
Garnish with parsley.