Beef Stroganoff (With Make Ahead Directions)
ImPat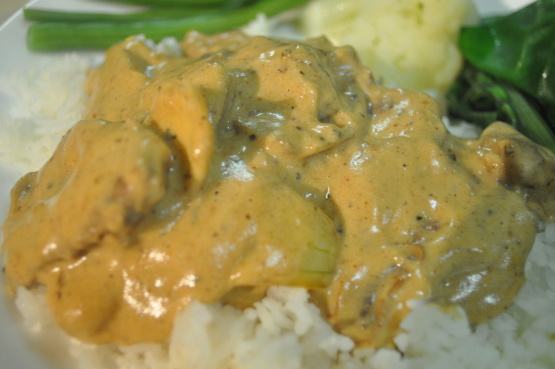 This is a wonderful, rich dish which can be made mostly from pantry staples. It takes almost no time to make, yet tastes like you spent a lot of time on it. It's also versatile- I use this sauce (without the sour cream) for Salisbury Steak. If you want to take it upscale for company, try using sliced beef tenderloin. It's also a great way to use up leftover beef, just cut into thin strips, skip the steps regarding cooking the beef, and add it into the sauce a few minutes before serving so it has time to heat through.

Top Review by ImPat
I used 500 grams of rump steak meat. lightly beaten out and cut into squares (which was more than enough for 4 of us - had a good sized serve left over, which the DM has claimed). I did use olive oil in place of the butter, otherwise cooked as per the recipe serving 2 serves over noodles and the other 2 over Doongara rice and we all enjoyed. Thank you IngridH for a good mid week meal, especially as I prepared and measured everything earlier in the day and then had it ready to go and dinner was on the table in 25 minutes. Made for ZAAR Stars tag game.
Heat sauté pan over medium-high heat until hot.
Sauté half of the beef in 1 Tbsp of butter briefly to brown.
Remove beef and any juices from pan into a bowl.
Repeat with second half of beef.
In same pan, without washing out, add 1 more Tbsp of butter and sauté the onions and mushrooms until soft.
Remove to bowl with beef.
Bring a large pot of water to a boil, and cook noodles per the package directions while finishing the sauce. (Skip this step if you are making ahead.).
Melt remaining 3 Tbsp of butter.
Whisk in the flour and cook, stirring, for 2 minutes to cook out the raw flour taste.
Whisk the broth into butter-flour mixture, slowly to prevent lumping.
Add ketchup, paprika, basil, and nutmeg.
Bring to a boil, reduce heat, and simmer for 5 minutes, or until sauce has thickened.
Add meat, mushrooms, and onions to sauce and continue to simmer for 5- 10 minutes more.
Remove from heat and stir in sherry.
Stir in sour cream, and serve immediately over the drained egg noodles.
MAKE AHEAD: Complete the sauce up through adding the sherry. Cool completely, and freeze.
Thaw in the refrigerator overnight.
Prepare noodles according to package directions.
While noodles cook, reheat in a saucepan over medium-low heat until hot.
Off the heat, stir in the sour cream, and serve as above.