Beef Stroganoff-Stuffed Potatoes
Prep 10 mins
Cook 20 mins

I found this recipe in some magazine a few months back. Dad and I have fell in love with it. When I cook something new my dad tells me this recipe is a keeper or toss it. This was a keeper and I was very happy because it is so simple to make.
Directions
Toward the end of the cooking time bake the potatoes in the microwave otherwise bake in oven at 425 degrees for about 40 minutes.
Dissolve bouillon in 1/2 cup water; set aside.
In nonstick skillet heat oil over high heat.
Add beef; cook, stirring, until browned about 5 minutes.
Add next 4 ingredients, cook, stirring occasionally, until onion is softened about 3 minutes.
Add bouillon mixture; bring to a boil.
Reduce heat to low; cover.
Simmer until meat is very tender, about 30 minutes.
Stir together flour and 1 Tablespoon water, set aside.
Stir sour cream into beef mixture.
Stir in flour mixture; cook until thickened, 1-2 minutes.
Spilt baked potatoes lengthwise, fluff with fork.
Top with beef mixture and parsley.
Serve while warm.
Reviews
Most Helpful
We ADORE Beef Stroganoff here, it's one recipe I go back to again and again and it's always in our dinner rota, so having it inside a beautifully soft and fluffy baked potato was like the best thing ever! Such a great dinner. Definitely making this again! :)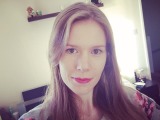 Excellent! I used stew meat. I cooked the stew meat in a crock pot on low for six hours with 2 cps. of beef broth and salt and pepper. I then cooked the onion and garlic in butter and added the meat and then all the other ingredients as stated in the recipe.