Beef Stroganoff - Dairy Free
LisaAD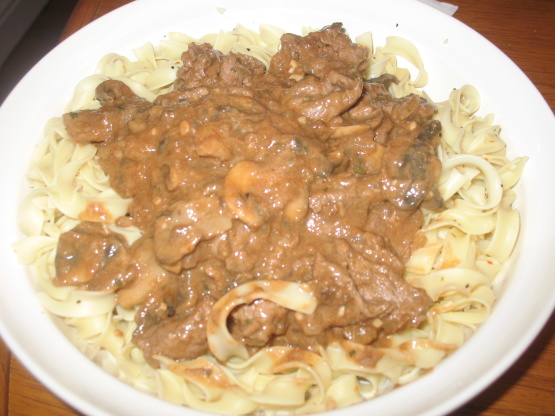 Beef Stroganoff is usually made wirh sour cream, this is a good version with it omitted.

Top Review by LisaAD
This recipe is awesome! With the flavors in this recipe I didn't miss the sour cream at all. I did some substitutions; I used beef tenderloins and double the bouillion, tomato paste and Chardonnay. I also added some paprika and parsley. Thanks for a fabulous non dairy recipe. This hit the spot!
Put beef sliced in brown paper bag with flour and pepper, close and shake well; set aside.
Melt 2 tbs margarine in large skillet and saute mushrooms. Then remove and set aside.
Saute onions and garlic together in same pan, then set them aside with mushrooms.
Add remaining 2 tbs margarine to skillet and add meat. Cook, stirring until meat is just done.
Crumble the bouillon cube over meat, add dry mustard and water, Stir while bringing to a boil and simmer 2 minutes.
Add cooked onions and mushrooms, tomato sauce and sherry. Stir briefly until just beginning to simmer.
Serve over cooked noodle or rice.