Brenda.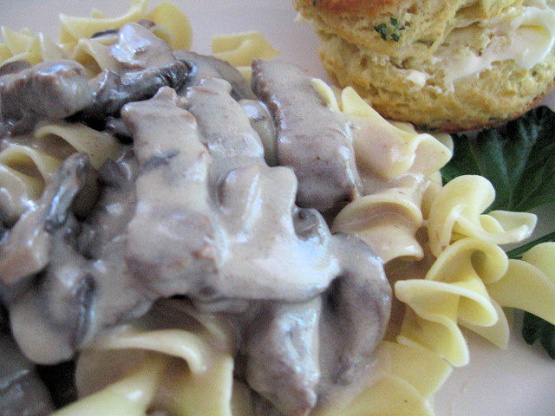 I have made this for years, my oldest used to call it beef strong enuf:) she still loves it, the gravy is fantastic. I serve this over cooked egg noodles. Updating to day I have been adding 1 tbsp fresh tarragon lately, optional.

Rummaging through an ill-equipped pre-grocery day fridge, I mistakingly used hot mustard for the Dijon; substituted a large heel (and VERY much-more-than-the-2-tbsp the recipe called for) of red wine instead of white; and browned the mushrooms in chopped garlic before tossing them into the beef. It all came out a definite 5 stars. Thank you Chia. This is an easy one. I shall make it often.
In skillet, melt butter; add steak, salt & pepper; saute in batches until browned; remove and set aside.
Add scallions to the pan, saute.
Add flour and stir.
Add mustard, broth, and wine; stir and bring to simmer.
Add scallions and beef back to pan; cover and simmer for 30 minutes.
Stir and simmer for 20 minutes; add mushrooms and continue to cook for 5-10 minutes.
Uncover and add sour cream.
Simmer uncovered, stirring until well blended. serve over noodles.