KK7707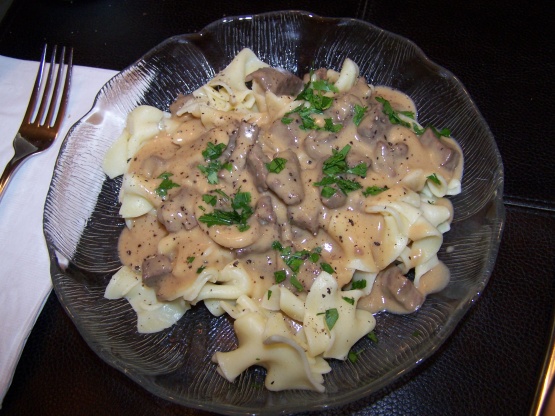 My favorite Beef Stroganoff recipe that I obtained from my Better Homes and Gardens Heritage Cookbook (1976).

Silky , smooth and velvety sauce poured over buttery egg noodles and served with a salad along side ! This was perfect on a cool fall day !!! I used the ketchup (out of tomato paste) and the sauce was the best we have had in a long time ! Thank You for sharing your recipe Caryn !
Coat beef strips with mixture of 1 Tablespoon flour and 1/2 teaspoon salt.
Saute coated beef strips in frying pan with 2 Tablspoons butter.
Add mushrooms, onion, and garlic; cook until tender-crisp, about 3 to 4 minutes.
Remove meat and vegetables from frying pan.
Add 2 Tablespoons butter to the pan drippings, blend in 3 Tablespoons flour.
Add tomato paste and beef broth; cook and stir over medium heat until thickened and bubbly.
Add meat and vegetables to the frying pan; mix well.
Stir in sour cream and dry white wine; cook slowly until heated through (DO NOT BOIL).
Serve over cooked, buttered egg noodles.