Chickee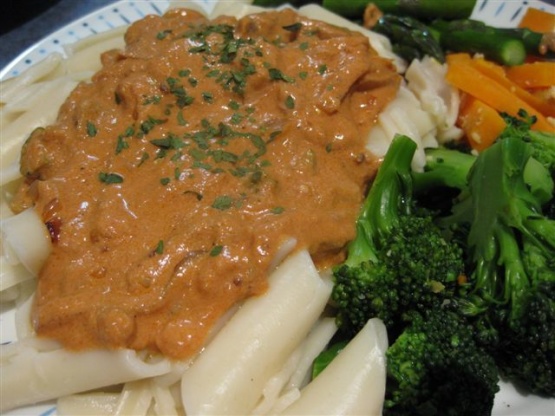 This is a dish I think I make well, it may not be authentic, but I like it anyway;-)

I hate to contradict all the good reviews, but to me this tasted more like a McDonald's cheeseburger than Stroganoff. Maybe it is just personal preference, but it ended up tasting like the sauce was made of ketchup for us, and the pickles distracted from the high quality meat. If I were making this for kids, I think it would work. But for my husband and me, just not what we like.
Heat one tablespoon butter in a large frying pan and cook onion, mushrooms and garlic until softened-about 10 minutes.
Remove from the pan.
Toss the steak strips in flour which has been well seasoned with salt and pepper-I love heaps of pepper in this.
Add the remaining 2 tablespoons butter, heat and add the beef strips cooking quickly-about 2-3 minutes, until browned, but still a little pink inside.
Remove the meat and deglaze the pan with the wine, stock and tomato paste.
Add the paprika, mustard and pickles (these add a nice tart crunch to the sauce), then the sour cream. Mix well, add the mushrooms and meat back to the sauce, heat gently for a couple of minutes stirring all the time.
Good served over rice, buttered noodles or mash.