Beef Stew With Mustard Dumplings
Prep 20 mins
Cook 2 hrs 10 mins

From a free Penzey's recipe card. I haven't made this yet, but it sounds good!
Directions
Heat the oil in a large heavy stock pot. Roll the meat in the flour and shake off the excess. Brown the meat in the pot.
While the meat is browning, mix the tomato sauce, stock, and the herbs and spices together in a bowl.
Once the meat has browned, arrange the onions and carrots over the meat and add the stock mixture. Partially cover the pot and simmer gently for about 2 hours.
While the stew is simmering, make the dumpling dough. Sift together the flour and baking powder. Add the spices.
In a separate bowl, add the milk to the beaten egg, then stir into the flour mixture. Add the melted butter and stir to blend. The dough should be soft but not sticky.
On a lightly floured surface, roll out the dough to about a 1/4 inch thickness and cut with a very small circular cutter (like a doughnut hole cutter).
Once the stew has simmered for 2 hours, drop the dumplings into the stew, cover and simmer for 10 minutes, then serve.
Most Helpful
The stew is delicious! Great flavors and textures. I thought the dumplings could have used more of a mustard flavor, but that didn't really take away from the dish. Made for ZWT 7.
I made this tasty stew in my slow cooker. Very easy to put together with great tomato flavours. I used wheat meat in place of the beef and an egg replacer to veganize the recipe. Made for ZWT 7 (The Hot Pink Ladies)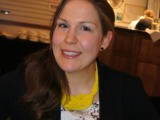 Ooh, Michelle, this is so good! The stew turns out very rich and velvety, with plenty of wonderful herb flavors, and the mustard in the dumplings is very subtle, but very savory. I only made one small change, and that was that I left out the egg, and used a bit more milk to make the kind of fluffy drop dumplings we like. Just a preference, I'm sure it's excellent either way.