Beef Stew the Old Fashioned Way
Deely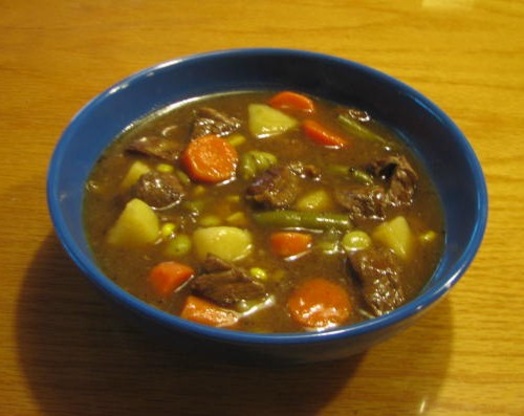 This is a from scratch, down home, richly flavored stew with no exotic ingredients. I've used blade steak, arm roast and chuck roast for this recipe. For the vegetables, I use a combination of fresh and what I have frozen from the previous season, but use what you have on hand. I'm adding a can of tomatoes as an option, though I don't use it. Also, I cook this from start to finish in my 5 quart stock pot. This is truly a base recipe that can be adapted to your family's like and dislikes. Feel free to make it your own.

YUMMMMM.... you won't be sorry if you decide to make this stew. I substituted a sweet potato for the potatoes called for, left out the peas and doubled the corn. I served this to company tonight with some nice hot rolls followed by a peach pie. I really want to say thank you so much for making me look like a good cook!
Dry meat chunks and season with salt and pepper.
Brown in olive oil, in 2 batches, remove from pot and set aside.
Add onion, garlic and thyme to pot and lightly brown (Add more oil if necessary).
Deglaze pot with red wine.
To pot, add beef broth, hoisin or soy sauce and bay leaf.
Cover pot and simmer about 2 hours or until meat is fork tender.
Remove 1/4 cup of the broth and set aside.
Add potatoes, carrots, butter beans, green beans, corn, peas and tomatoes if using.
Simmer until vegetables are tender, about 30 minutes.
Add cornstarch to reserved broth, mix with a fork an add to pot, stirring until thickened.
Adjust seasonings to taste.