Becky74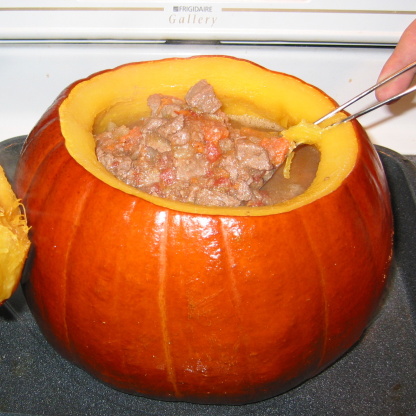 Taste of Home. Beautiful presentation. Excellent for fall celebrations. I usually add bay leaf and dried thyme or marjoram to the stew. You can add whatever spices/herbs you prefer.

Made this last weekend for a family get-together. You are so right, it makes a spectacular presentation. The stew was simple but very hearty. I didn't add any herbs but might consider adding some thyme and marjoram next time. Thanks for a splendid and festive meal for our family.
In a Dutch oven, brown meat in 2 tablespoons oil.
Add water, potatoes, carrots, green peppers, garlic, onion, salt, and pepper.
Cover and simmer for 2 hours.
Stir in bouillon and tomatoes.
Wash pumpkin; cut a 6 to 8 inch circle around top stem.
Remove top and set aside; discard seeds and loose fibers from inside.
Place pumpkin in a shallow sturdy baking pan.
Spoon stew into pumpkin and replace the top.
Brush outside of pumpkin with remaining oil.
Bake at 325 degrees for 2 hours or just until the pumpkin is tender (do not overbake).
Serve stew from pumpkin, scooping out a little pumpkin with each serving.