Beef Slow Oven Cooked in Beer
JustJanS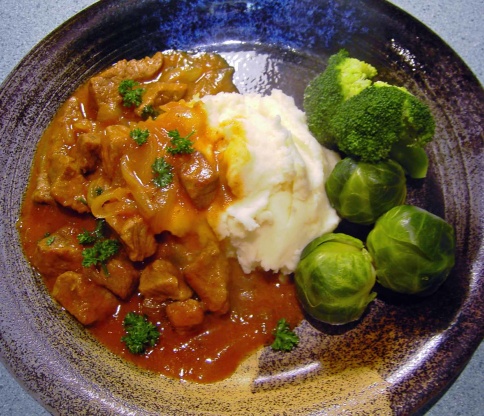 Oven slow cooked beef with beer.

This was a nice dinner for a cold summer's evening! I made in the slow cooker, and omitted the stock, instead just adding some powdered stock. I also added garlic and thyme as suggested by JustJanS, I think the thyme really added to the flavour. I also found it needed another tablespoon of tomato paste to suit our tastes. Served over mashed potatos, yum!
Preheat oven to 150C (300F).
In large bag season the flour with salt and pepper.
Coat beef in flour mixture.
Heat half the butter and oil in large skillet over high heat.
Brown meat in batches, removing to plate when browned.
Add remaining butter and oil, reduce heat to med-low, cook onions for 10 minutes or until soft.
Add tomato paste, bay leaves, mustard, sugar, salt and pepper, stir to combine.
Gradually add beer, stirring constantly.
Gradually add the stock, stirring constantly.
Return beef to pan and bring to boil.
Transfer to ovenproof casserole dish, cover and bake in oven, stirring occasionally, for 2 1/2 hours or until meat is tender.
Scatter with parsley.
Serve on top of mashed potatoes.