Duane C.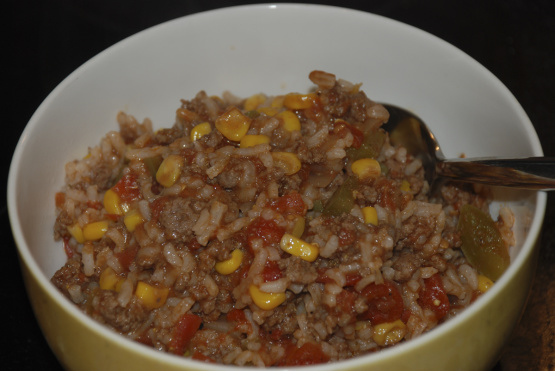 My husband grew up with this meal and still loves it! Kid-friendly and can add or subract ingredients without losing much flavor. We make this all the time.

I've been making this since 1972 when I found the recipe on a box of minute rice. Over the years, our family grew to 8, so I'd quadruple recipe. Everyone loved it. As the kids got older, and worked, they'd take leftovers for lunch and would heat up in microwave. Still a hit, made it tonight, for two.
Dissolve the beef boullion cube in the 1 cup of water.
Brown beef and drain.
To the beef, add onion, green pepper, seasonings, tomatoes, corn, and bullion with water.
Bring to a boil.
Stir in rice and remove from heat.
Cover.
Let stand 5 mintues, fluff with fork.