Beef Satay With Peanut Sauce
Alskann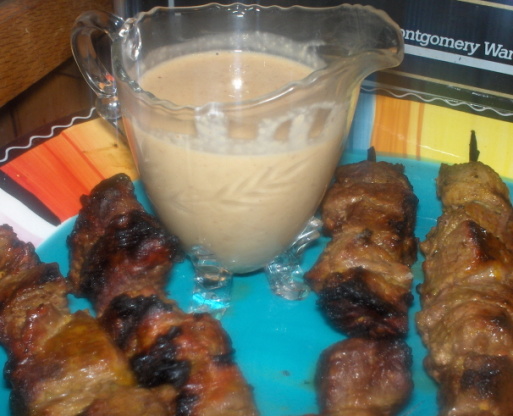 A delicious traditional peanut satay. Great for barbecues and dinner parties. Will really impress! Make sure you use sesame oil, as the flavour is important!!!

Very good. I added some fresh cilantro from my garden to the peanut sauce. I put the marinated beef steak (I used boneless top sirloin steaks) on the BBQ and everyone loved it! I will put this in my permanent recipe file. Thank you for posting this "delicious" recipe.
In a bowl, stir together all of the ingredients for the marinade, coat meat thoroughly and leave to marinate 4 hours, or overnight is best.
When marinated, thread onto skewers if you like, otherwise pan fry or barbecue.
Cook meat on BBQ, grill or pan until cooked. Keep warm.
Mix together all the Peanut sauce ingredients in a small saucepan, heat gently over low heat until peanut butter is melted and all ingredients are combined and hot. Serve with meat. Satay is always best served with jasmine or white rice.