Beef & Rotini Salad With Tomato Basil Dressing
Rachchow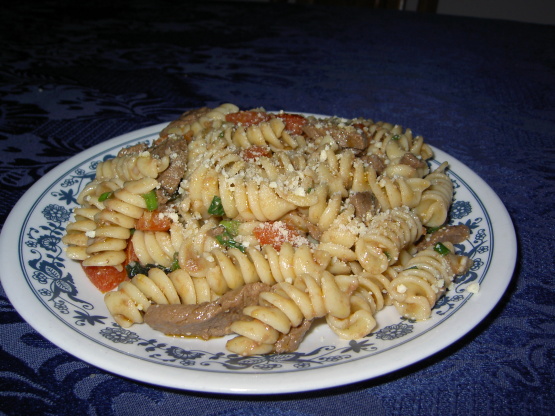 This pasta salad can be eaten warm or cold and has nice Italian flavours of balsamic vinegar, olive oil, garlic, basil, etc. And of course, lots of parmesan cheese. Can also use leftover roast beef.

i was so impressed with the chef's bio i decided to give one of her recipes a whirl and glad i did. this was excellent. simple to make and delicious. used all organic ingredients, but had to use regular onions as that was all i had. i chose to eat it after it turned to room temp and then put in the fridge, but i can see how this would be just as good warm. all the flavors went really well together and made for a nice tasty dish. thank you so much for sharing this.
Combine beef and marinade ingredients; let sit, covered, at room temperature for at least 1 hour.
Cook rotini until al dente.
In a medium-size bowl, combine together balsamic vinegar, olive oil, garlic, salt, pepper, sugar, tomato, green onion, and basil.
Brown meat in nonstick skillet over medium-high heat; drain and toss with warm rotini and dressing. Sprinkle generously with parmesan cheese.
The dressing will flavor this salad better if the pasta is warm when dressed. Leftover roast beef can also replace the sirloin.