Beef Roast with Portabella Mushrooms
Derf2440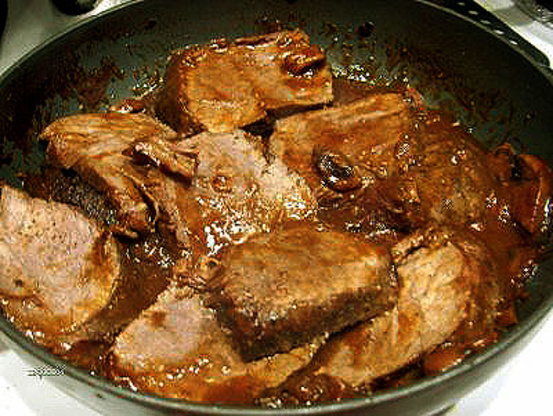 A delicious and elegant way to serve "comfort food"! I created this recipe to use up some portabella mushrooms that I bought on special.

Ok, cubed the sirloin tip roast while slightly frozen. Coated it with salted and peppered flour. Then cooked it in oil to brown on all sides. Removed beef and added the onion, mushrooms and garlic to pan til slight brown. Added the 1/4 c.wine, 1/2 cup broth and a little worcestshire(sp?). Stirred in tomato paste. Threw it all in crockpot with the rest of the can of beef broth and another 1/2 cup wine (used Black Opal Shiraz) and bay leaf. Added in a couple baby carrots the last 2 hours of cooking. Smelled delish! Before serving I added in 4 oz. cream cheese for about 15 minutes.... spectacular! Maybe I made a new recipe??! Served over egg noodles . My mother enjoyed it and that says alot....
Salt roast on all sides to taste.
Brown roast in 1 T of oil over medium high heat in ovenproof skillet.
Remove roast from pan.
Add other 1 T oil to pan, brown onions and mushrooms until mushrooms start to become limp and onions start to brown.
Add garlic and saute 1 more minute.
Deglaze pan with broth and 1/4 cup of red wine.
Add tomato paste and stir until smooth.
Return roast to center of pan.
Pour remaining wine on top of roast.
Sprinkle with black pepper if desired.
Place bay leaf on top of roast.
Cover pan tightly with lid or foil.
Bake at 325 for approximately 1 1/2 hours.
After removing from oven, let roast rest 15 minutes before slicing into thick slices.
After removing roast for slicing, add sour cream to pan juices, mushrooms and onions.
Cook over medium heat for approx.
5 minutes to thicken sauce.
Add sliced beef back to pan, and serve.
Delicious and elegant!