JustJanS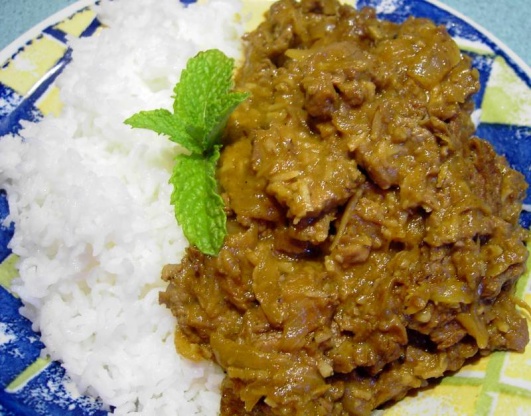 I found this in a magazine loaned to me by my neighbour. I just happen to have some skirt steak (which the recipe asks for) in my freezer, so will try this soon.
2

tablespoons vegetable oil

2

lbs steak, cut into 3 cm pieces

1

onion, finely chopped

1

(2 ounce) packetrendang curry paste

1

(400 ml) can coconut milk
1⁄2 cup desiccated coconut

2

tablespoons soy sauce (ketcap manis suggested)
Heat 2 teaspoons the oil in a deep non-stick pan over high heat.
Add a quarter of the steak and cook for 3 minutes or until browned.
Remove to a plate and repeat this 3 times with the remaining steak and oil.
Add the onion to the pan and cook for 2 minutes or until just tender.
Add the curry paste and cook for 1 minute or until fragrant.
Stir in the coconut milk and return the meat to the pan.
Bring to the boil, then reduce the heat to medium-low and cook uncovered for 1 1/4 hours or until tender.
Add the coconut and ketcap manis and cook, stirring for a further 15 minutes or until the liquid has evaporated.
Serve with rice.