Beef Pot Roast With Root Vegetables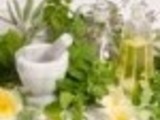 This pot roast is the recipe i have been making all my cooking life except the addition of the balsamic vinegar which gives it a wow taste. The secret is to find a cut of meat that is well marbled; chuck, boneless blade, shoulder roast. Talk to your butcher. Personally, I find the roast is juicier if you are not able to slice it, but chunk it to serve. If you own a Creuset or a dutch oven; now is the time to take it out. I don't so I use my cheap roast pan. Stilll comes out fabulous.
Directions
Pat roast dry; season with salt and pepper.
Heat oil in Dutch oven on medium-high heat. Add roast; brown well on all sides, 10 to 15 minutes.
Remove roast from pan and place in roasting pan.
Discard all but 2 tsp oil from pan.
Add first batch of chopped onions and garlic. Cook until tender, about 4 minutes.
Add 2 cups broth and vinegar; bring to boil and deglaze pan. Add to roast pan. Cover tightly; cook in preheated 350ºF oven for 3 hours.
Arrange remaining onions, carrots, potatoes and remaining beef broth around roast. Cover and continue to cook for 2 hours or until vegetables and beef are tender.
Remove beef and vegetables to serving platter; keep warm.
Skim any fat from juices; simmer on top of stove, uncovered, until concentrated and flavourful; Stir in parsley.
Slice meat or chunk up meat, arrange with vegetables on plates and spoon juices on top.