Beef Pot Roast (Pot, Oven or Slow Cooker)
Swirling F.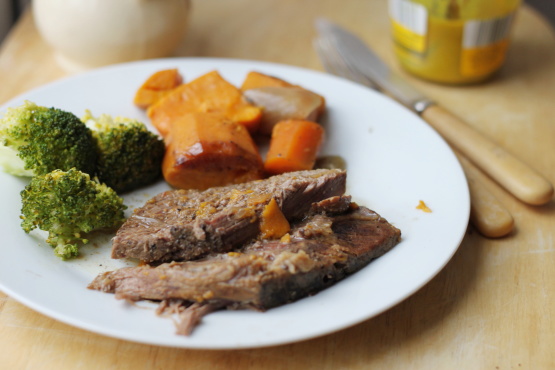 Yes, I know, lots of pot roast recipes here, but I tell you this is my all time favorite. Even better then the ones that you dump all of the pre packaged gravy mixes and salad dressings in the pot. Homemade, just like a good mid-western mom meant it to be!

Top Review by rds607
As the author states, there are lots of pot roast recipes out there ...but this one is special. I agree wholeheartedly. I cooked the roast in the oven covered for about 3 hours after sticking it with about 3 cloves of garlic, searing it in bacon fat for about 5 minutes, sauteeing 1/2 large onion and several more cloves of garlic, then adding about 1 cup red wine, 2/3 qt beef broth, 2 cloves, 2 bay leaves, 1 tbs dried parsley & 1/2 tsp ground coriander. I then followed the remainder of the recipe without any variation. Absolutely delicious.
Trim fat from meat. Brown meat on all sides in hot oil in a 4- to 6-quart Dutch oven. Drain fat.
Mix 3/4 cup water, Worcestershire sauce, bouillon, basil and salt and pepper to taste.
Pour over roast. Bring to boil. Reduce heat and simmer, covered, 1 hour.
Peel a strip of skin from center of each new potato or peel and quarter sweet potatoes.
Add potatoes, carrots, onions and celery to pot. Return to boil. Reduce heat.
Simmer covered, until tender, 45 to 60 minutes. Add water as needed.
Transfer meat and vegetables to platter. Reserve juices.
To prepare gravy, measure juices, skim off fat, and add enough water to make 1 1/2 cups. Return to Dutch oven.
In a small bowl, stir 1/2 cup water into flour. Stir into pan juices. Cook, stirring, on medium heat until thickened, then 1 minute more. Season to taste. Serve with pot roast.
For oven cooking: After browning meat and adding liquid mixture to pan, bake, covered, for 1 hour at 325 degrees. Prepare potatoes as directed. Add vegetables to meat. Bake, covered, until tender, 45 to 60 minutes. Make gravy as directed.
For slow cooker: Trim fat from meat. Slice vegetables into a 4- to 5-quart crockery cooker. Put meat on top of vegetables. Mix the liquid mixture to cooker. Cover and cook on low for 10 to 12 hours or on high for 5 to 6 hours. Prepare gravy as directed.