Beef Pot Roast in Crock Pot / Slow Cooker
Peter J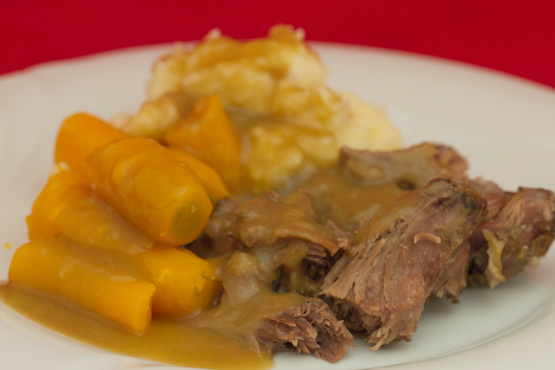 This is my first roast in a crock pot, I didn't get to try this as I don't eat red meat but the family enjoyed the beef and so did our dinner guest. I served it with Rooty Veg Roast and steam broccoli.

Made for Aus/NZ Swap. This is very good and I loved how the dredging in flour made for a good base for the gravy. I did feel it needed some more something in the flavors. I may add in some roasted garlic and additional pepper. I will definitely make this again as the meat was fall apart tender. I used my newer crockpot and on low it was done in 6 1/2 hours on low. I may try my older crock next time to see the time difference. Very Nice and thank you for a great recipe. pics to follow
Trim all excess fat from the roast.
Combine 1/4 cup flour, salt and pepper on a flat plate. Coat meat with the flour mixture. Heat large pan with oil and brown the beef.
Place onion and celery in slow cooker, then pour in the liquid stock and top with roast (cut roast in half if it's unable to fit),.
Cover and cook on low setting for 8-10 hours. Depending on how well you enjoy the beef.
Remove beef from the slow cooker and allow to sit until you make the gravy (about 10 mins).
To make gravy pour all the juices from the slow cooker into a pot and puree with a hand wand. Put the meat juices on a very low heat on the stove top. In a separate bowl mix flour and water until liquid paste. Slowly add the flour and water mixture into the gravy pot, mix the gravy until it thickens.
Slice beef and serve with roasted root vegetables and gravy.