Beef Pot Pie With Mashed Potato Crust
WiGal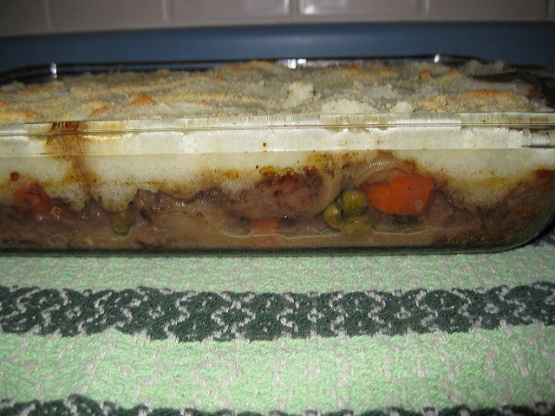 From Woman's Day magazine, a pot pie with a mashed potato crust. Can be made ahead.

Top Review by WiGal
Tender meat, a delicious brown gravy, and a wonderful aroma. Timing is right on. I made two minor adjustments-- I reduced the salt to 1 teaspoon and added in some peas otherwise I made as posted. I do think some pepper and more onion should be added, and garlic mashed potatoes on top would be wonderful in this recipe. Made for the Cookathon.
Heat oven to 325ºF. Have a shallow 3 quart baking dish ready.
Coat meat with flour, shaking off excess. Heat 1 tablespoon oil in a large heavy skillet over medium-high heat. Brown meat in 2 to 3 batches, adding more oil as needed. Remove to baking dish with a slotted spoon.
Add carrots and onions to dish. Mix wine, garlic, salt and herbs. Add and stir to distribute. Cover tightly with lid or foil.
Bake 2 hours or until meat and vegetables are tender. (If making ahead, refrigerate stew and mashed potatoes separately up to 3 days.).
To serve: (If made ahead, reheat stew, covered, in 375ºF oven 40 to 45 minutes until hot and bubbling). Increase oven temperature to 425ºF. Spoon mashed potatoes on stew and sprinkle with parmesan cheese. Bake 10 to 15 minutes longer until edges of potatoes are golden brown.