Nif_H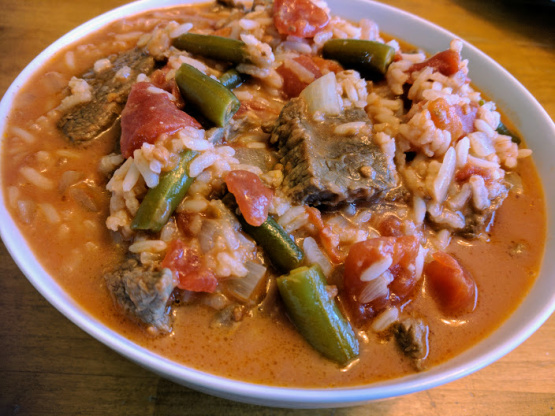 Great use of beef stew meat! Wonderful beef stew with coriander, coconut and tomatoes. This is a dish from East Africa, but has lots of Indian influence. It combines the Indian spice coriander with several classic African ingredients...peanuts, coconut, tomatoes, and green beans. I think you could substitute okra for the green beans if you wanted to.

Top Review by Nif_H
This was great! This was super easy to make and the house smelled great while it was simmering away on the stove. I used more tomatoes just to use up the rest of the can and chose green beans. Made for Culinary Quest 2017 for the Smokin' Chefs. Thanks! :)
Brown beef in a dutch oven, half at a time, in hot oil. Remove and set aside, reserving drippings. In drippings, cook onion and garlic till tender but not brown. Return all meat to dutch oven. Drain off fat.
Add coconut milk, undrained tomatoes, salt and coriander into meat mixture. Bring to boiling, reduce heat. Cover, simmer about 1 hour.
Stir in beans (or okra), rice and peanuts. Simmer, covered, for 25 to 30 minutes or until liquid is absorbed and until meat and rice are tender.