flower7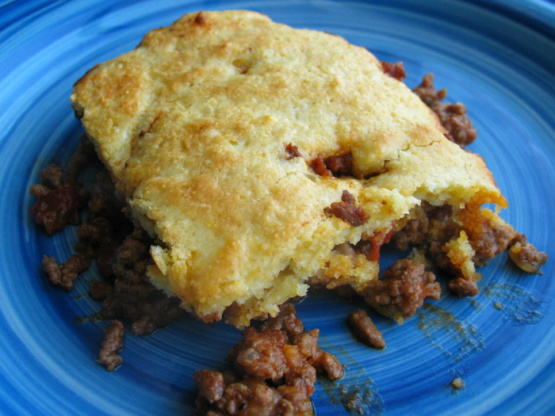 This was very tasty! I used homemade barbecue sauce (recipe #249779). The only thing I really changed was to cook the onions and peppers with the beef (and I used yellow & orange peppers as I had some already chopped in the freezer). As there was a lot of meat I decided to use a 13x9 pan (since you didn't specify) and when I started to add the cornbread I was afraid this might end up a disaster because there wasn't enough batter to cover the meat, so it was kind-of cornbread "dumplings". Fortunately after baking it puffed up some and covered most of it. This would be good with less meat and some beans added but it was good as is too! Oh, also, for anyone that is wondering, the muffin mix calls for 1 egg and 1/3 cup milk (I used buttermilk as I had it on hand). Thanks for sharing!
Brown ground beef.
chop vegetables while doing so.
Add all ingredients, except corn muffin mix to browned ground beef and simmer for 10 minutes.
While mixture is simmering, prepare cornbread batter according to package directions.
Place ground beef mixture in baking pan. Top with cornbread batter.
Bake at 425 degrees for 15 minutes or until cornbread topping is golden brown.